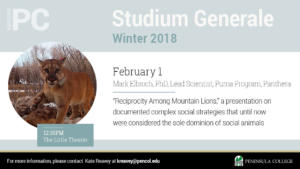 For anyone interested in mountain lion social behaviors, please join me on February 1st in Port Angeles, Washington or February 24th in Duvall, Washington.
Feb 1 at Studium Generale in the Little Theater, Peninsula College:
1502 E. Lauridsen Blvd./Port Angeles, Wa. 98362.
Here is a link for directions:
Additional directions: The "Little Theater" is centrally located in the Pirate Union Building ("The PUB"), which is directly above (south of) the main parking area. If you walk between the library and the clock tower building, you will come right to it.
Feb 24 at Wilderness Awareness School, Duvall WA.
Contact: Marcus Reynerson <marcusreynerson@gmail.com>
I don't actually know exactly where the presentation will occur–contact Marcus for details.

The office of WAS is at 26425 NE Allen St, Ste 203, Duvall, WA 98019. Their main campus is Linne Doran and directions are found here:
Thank you for your interest.